Some Perceptions Sites templates use what is called a Query Loop block to display latest posts. This Query Loop block is very flexible – you may choose to change the layout, the query parameters (displaying only a certain category or tag, for example). Read more about the Query Loop from GenerateBlocks.
Updating the Query Loop parameters #
Basic parameters that are already in place on some Perceptions Sites templates include displaying 2 of the most recent posts, regardless of category, author, or any other parameter. If you want to be more specific about which posts you are displaying, you may click the "Add Parameter" button and choose from the numerous options. You may add as many parameters as you wish.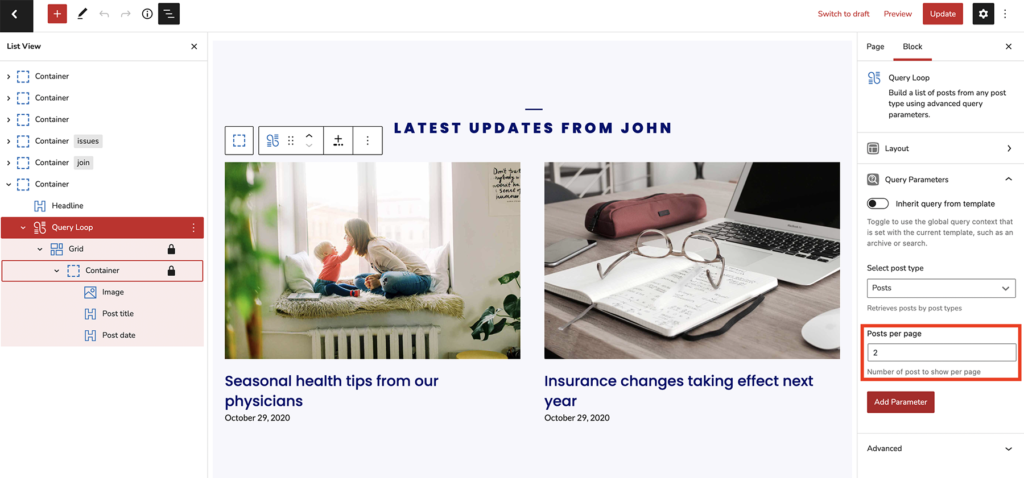 Updating the Query Loop design #
Each part of the query loop block is customizable. When you select one of the block elements (container, image, post date, or post title), you are offered many block options in terms of layout, typography, spacing, colors, backgrounds, etc. Any change that you make applies to every post in the Query Loop output. So if you update the font size of the post title, it will apply to every post title within the block. If you update the width of the container to 33%, each item in the loop will be 1/3 of the page in width.