The theme controls much of your site's design styles. To update these options, click on Customizer in the Dashboard navigation.
Updating your site fonts #
Google Fonts are built-in to each Perceptions Sites template. And the GeneratePress theme uses something called Dynamic Typography, which applies fonts globally and allows for easy update. Here is a quick overview:
Access the Typography options in the Customizer.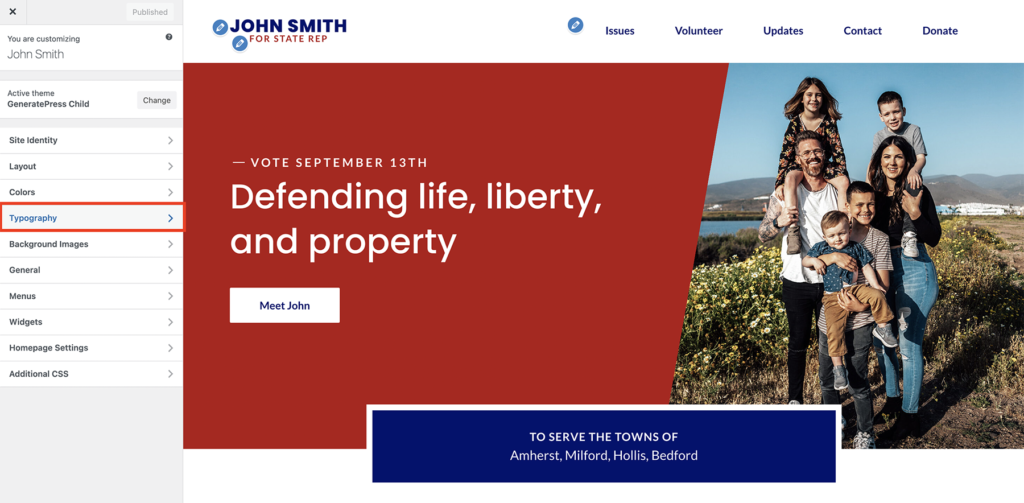 To globally change the fonts throughout the site, open each font listed within the Font Manager and replace it with a different Google Font. Once you have replaced the existing font in the Font Manager, that font will automatically populate into the appropriate places within the Typography Manager options below.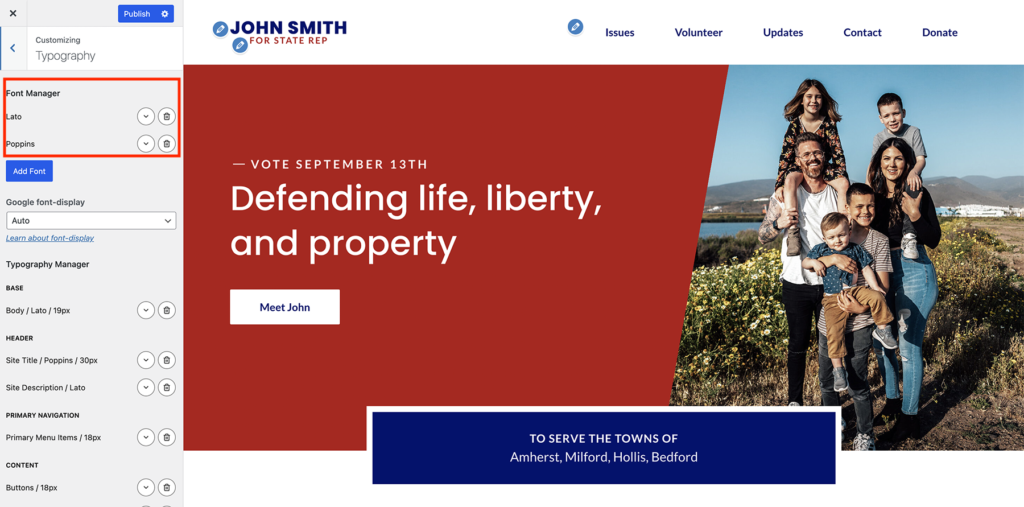 To adjust the specific fonts, sizes, weights, and styles applied to elements throughout the site, open the options for each element and adjust as you wish.
When you are finished with your typography customizations, make sure to click the blue "Publish" button at the top of the page.
For more detailed information on theme typography, visit the GeneratePress documentation on the topic.
Updating your site global colors #
Every Perceptions Sites template relies on a global color scheme to make it easy to adjust colors globally. Here is a quick overview:
To adjust your site colors, visit the Colors options in the Customizer.
At the top of the Colors options, you will see a Global Colors section. Each color in the palette is applied in certain specific places both in the color options below as well as throughout the pages and posts.
To update a color, click on the swatch. This will bring up a popup with color options for that swatch. You may drag the color select to choose your color, or you may enter a color HEX code (in the bottom input box) to choose a specific color.
WARNING: Do not change the name of the "CSS Variable Name." It is locked for a reason! If you unlock and rename, it will break all connections to where that swatch is used throughout the site, and adjusting the swatch will no longer update the color globally.
For more details on other theme options beyond what is detailed here, view the GeneratePress documentation.